Nowadays, we can easily get a really good oscilloscope with plenty of features without spending a fortune. In this article we will take a look at several entry level, inexpensive oscilloscopes and we will try to find the best oscilloscope suitable for electronics beginner or hobbyist.
How to Choose an Oscilloscope?
When choosing an oscilloscope there are many different parameters and specifications to consider. Here's a list of some of the most important factors through which you can understand what would be the best oscilloscope for you.
Bandwidth – Bandwidth is often considered to be the single most important specification of an oscilloscope. It defines the range of the frequencies that the oscilloscope can accurately measure. It's measured in Hertz and for entry level scopes that's usually in the Mega Hertz region. The bandwidth of the oscilloscope should ideally be 5 times higher than the maximum frequency of the signal, in order to allows for accurate representation of the wave from.
Sample rate – The sample rate refers to the number of samples the oscilloscope can take per second. The higher the sample rate, the greater the resolution of the waveform. This provides more accurate representation of faster signals or detection of sudden events.
Memory depth – The memory depth is the amount of data or samples the oscilloscope can store. With higher memory depth we can store, display and analyze wider portion or time frame of the signal.
Number of channels  – The number of channels or inputs is an important factor for an oscilloscope because it determines how many signals you are able view and analyze at the same time. Entry level oscilloscopes usually have 2 or 4 channels.
Price – Well, whatever we are buying, the price is always an important factor. Why spending thousands of dollars for an oscilloscope when we can get a really good oscilloscope for just couple of hundred dollars, especially if we are just beginners or hobbyist in electronics.
Best Entry Level Oscilloscopes
So, considering the above specifications let's take a look at several entry level oscilloscope and determine what's the best oscilloscope for an electronics beginner or hobbyist.
Please note: There are affiliate links in this post. This means that at no cost to you, I may make a small commission if you purchase through these links. I would appreciate your support in this way!
Rigol DS1054Z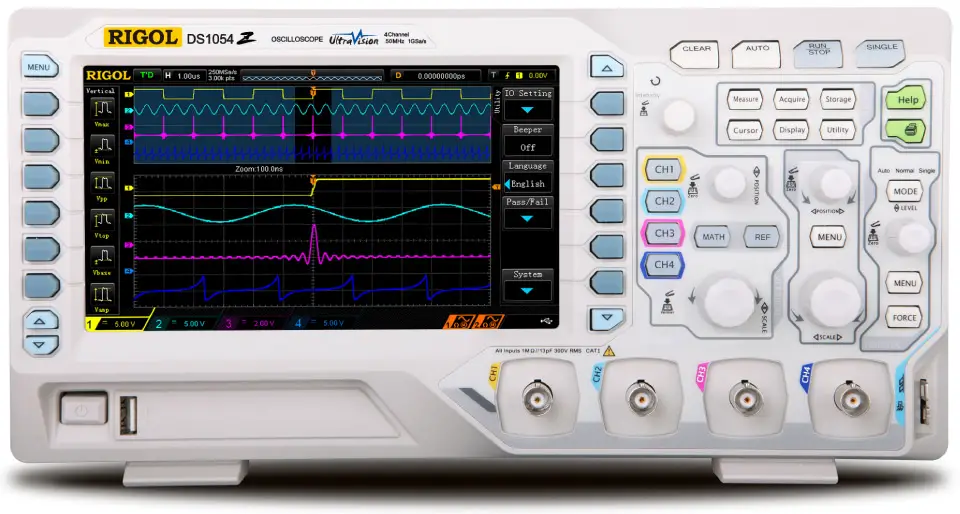 Specifications:
Bandwidth: 50 MHz, hackable to 100 MHz
Sample rate: 1 GSa/s
Memory depth: 12 Mpts, up to 24 Mpts
Number of channels: 4
The Rigol DS1054Z is one of the best-selling oscilloscopes since its release. Although the price is higher than most, it's really worth it. It features 4 input channels and a bandwidth of 50 MHz, which is hackable to 100 MHz. It has a sample rate of 1GSa/s and relatively huge memory depth of 12 MPts, which is upgradable to 24Mpts.
The 7-inch display, with resolution of 800 x 480 pixels, is big enough to show the 4 channels together. This enables better usability and makes it perfect for analyzing and comparisons of multiple signals at the same time.
The case is made out of heavy-duty, scratch-resistant plastic, and all buttons and connections are quite solid. The overall build quality of this oscilloscope as good as that of an expensive top-brand.
Hantek DSO5102P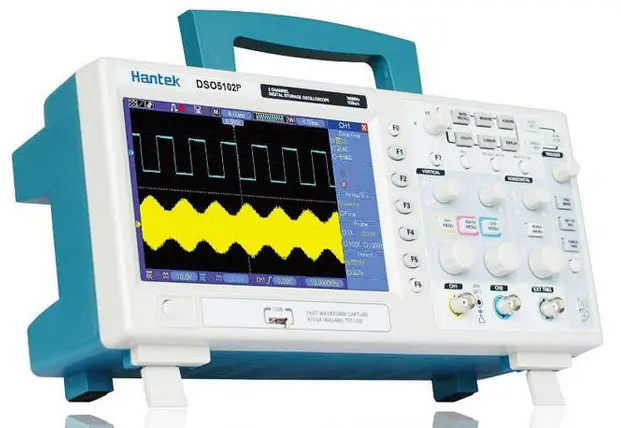 Specifications:
Bandwidth: 100 MHz
Sample rate: 1 GSa/s
Memory depth: 40 Kpts
Number of channels: 2
The Hantek DSO5102P features a bandwidth of 100 MHz and a sample rate of 1 GSa/s. It has 2 input channels which is common number for entry level scopes, but of course, good enough for most electronics beginners or hobbyists. The memory depth is 40Kpts and it has a 7-inch colored display.
This oscilloscope is a really good choice for beginners with good user interface and menus that are intuitive to use.  Also, The Hantek DSO5102P is probably the best cheap oscilloscope you can get on the market because it offers so many good features for such a low price.
Hantek DSO4102C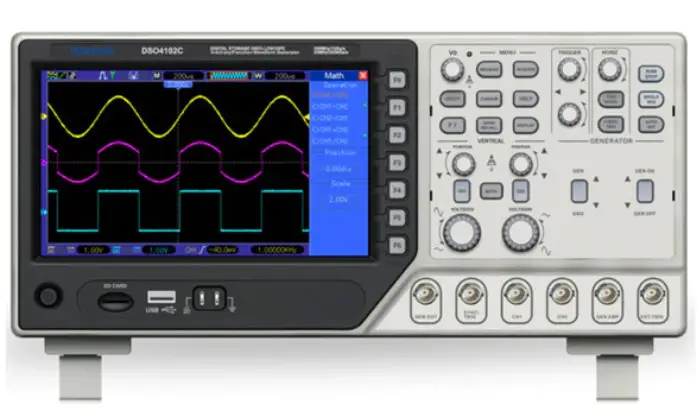 Specifications:
Bandwidth: 100 MHz
Sample rate: 1 GSa/s
Memory depth: 40 Kpts
Number of channels: 2
The DSO4102C is another oscilloscope from Hantek which has similar specifications as the above DSO5102P. It has 2 input channels, 100 MHz bandwidth, 1 GSa/ s sample rate, 40 Kpts memory depth and a 7-inch 64K color display.
What makes this oscilloscope interesting for electronics beginners and hobbyists is that it comes together with an arbitrary/ functions waveform generator. It's 25MHz with 12 bit resolution and can generate arbitrary waves, square waves, sine waves, triangle waves etc.
Siglent SDS1202X-E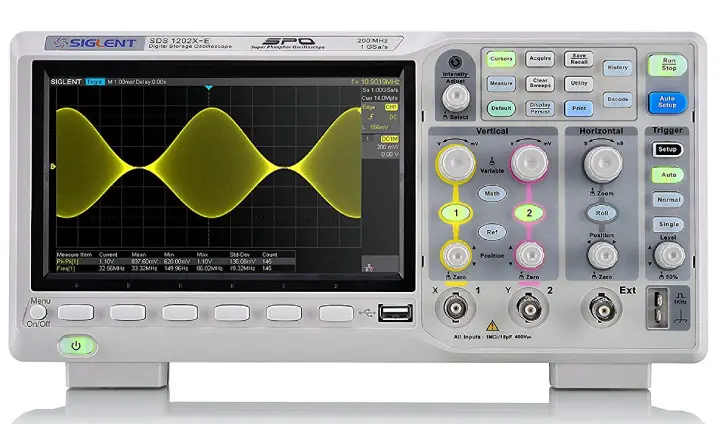 Specifications:
Bandwidth: 200 MHz
Sample rate: 1 GSa/s
Memory depth: 14 Mpts
Number of channels: 2
Check prices……. Amazon
The Siglent SDS1202X-E has a bandwidth of 200 MHz, sample rate of 1 GSa/s and memory depth of 14 Mpts, which is quite impressive considering its price tag. This allows capturing better signal and ability to identify more complicated problems that other devices miss. It has a 7-inch color display and has an intuitive user interface with knobs and buttons that feel solid.
Siglent is one of the most trusted manufacturer of high quality oscilloscopes. The SDS1000X-E series new generation of SPO technology provides excellent signal accuracy and high performance in every use.
Siglent SDS1052DL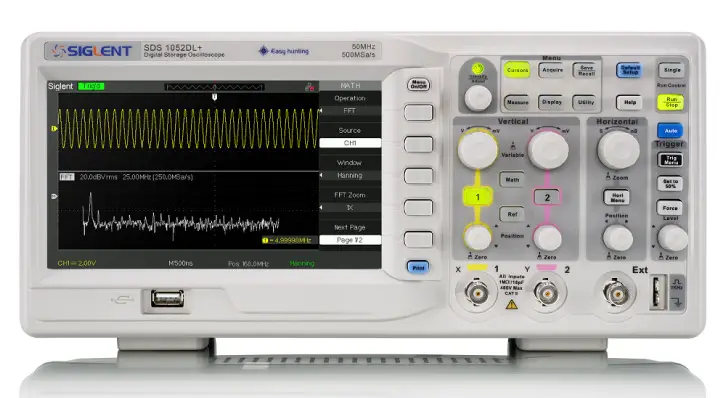 Specifications:
Bandwidth: 50 MHz
Sample rate: 500 MSa/s
Memory depth: 32 Kpts
Number of channels: 2
Check prices……. Amazon
The SDS1052DL is the most affordable oscilloscope from Siglent. Obviously, that means that it comes with a little bit lower specs compared to the above mentioned SDS1202X-E. It features 50 MHz bandwidth , 500 MSa/s sample rate and 32 Kpts memory depth. It's dual channel and has a 7-inch display.
This digital oscilloscope is surprisingly accurate, and also has many features and it's easy to use. It is one of the best beginner oscilloscopes you get, considering the brand and its price tag.
My Recommendations for Best Oscilloscope for Beginners or Hobbyists
Well, in my opinion the Rigol DS1054Z is the best oscilloscope for beginners or hobbyists. Yes, it comes with the highest price tag of all of the above mentioned oscilloscopes, but simply it delivers and it's worth it.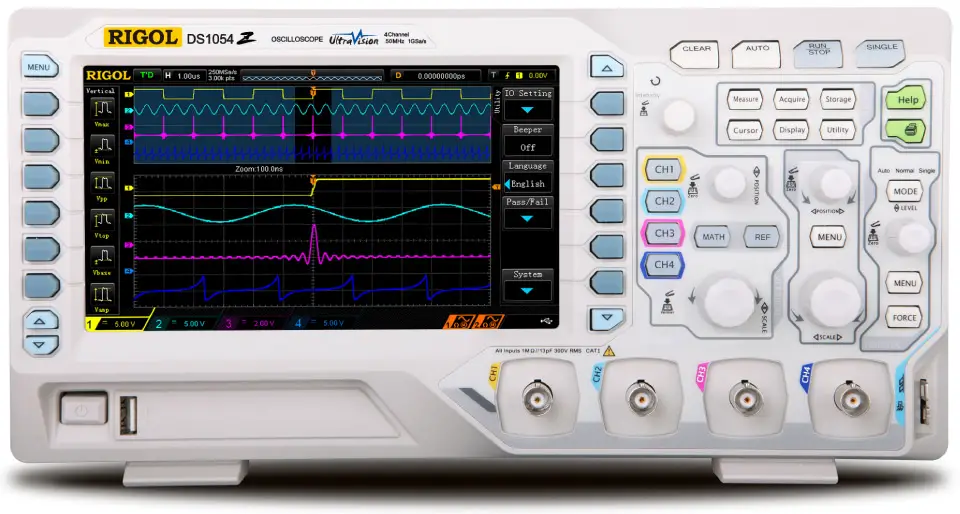 Check prices……. Amazon / Banggood
In case you are on a lower budget, then go for the Hantek DSO5102P. It has very similar features and specs as the Rigol, and it only comes shorter by 2 channels and slightly lower build quality.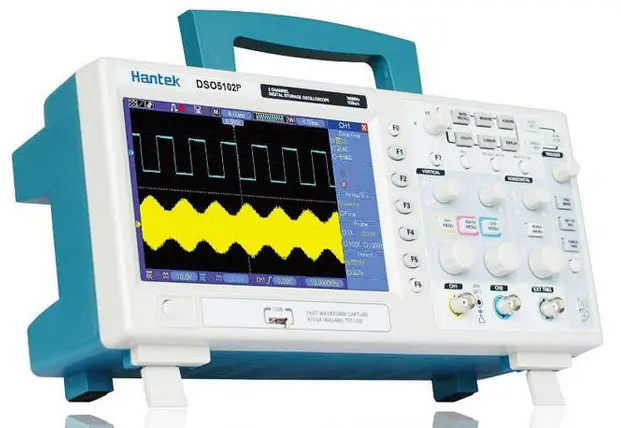 Check prices……. Amazon / Banggood
I hope you've found this article helpful. Feel free to ask or suggest anything in the comments section below.
The post Best Entry Level Oscilloscopes for Beginners and Hobbyists 2019 appeared first on HowToMechatronics.
from HowToMechatronics http://bit.ly/2MCpXHG
via IFTTT