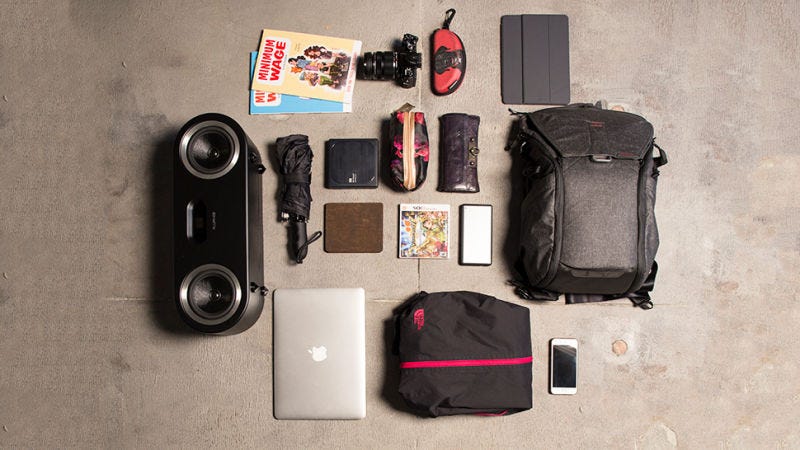 Whether you're taking a short trip or living out of a van for years at a time, more of us now work from wherever we find ourselves, but having the right gear to hand can make the difference between a smooth remote working session and a disastrous one. Here's the key kit you need to be packing when you head out on the road—besides the laptop of course.
In each of the sections we've pointed to a few possible purchases just to give you an idea of what we're talking about, but this is by no means a comprehensive buyer's guide—have a shop around and you might find something even more suitable for your needs.
---
Power up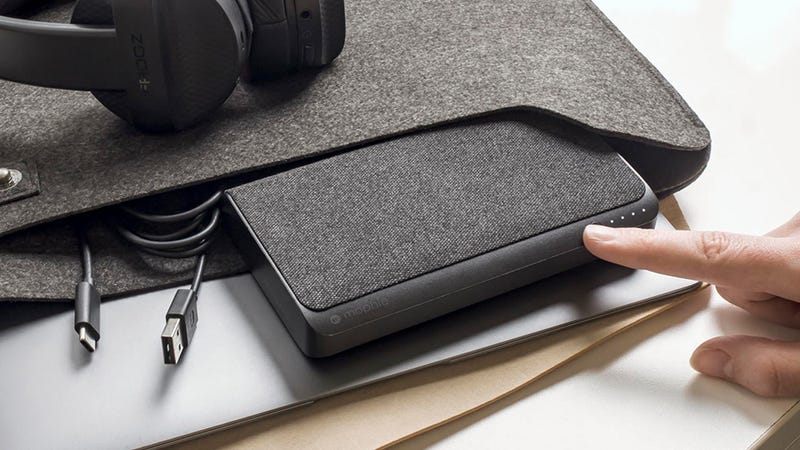 Even the laptops with the longest-lasting batteries are going to start struggling by the end of a hectic working day, and so anything you can do to extend this lifespan could mean the difference between submitting your work on time or way behind schedule.
Power bricks with enough juice to recharge a laptop aren't particularly light to carry around or cheap to buy, but they're worth the extra investment and wear on your shoulders. The Mophie Powerstation USB-C XXL ($150) works with newer USB-C laptops and gives you dual charging ports and 19,500mAh capacity, while the cheaper Anker PowerCore+ 20100 ($83) is also USB-C-compatible and has 20,100mAh of juice.
But there's one important thing to consider when buying an external battery that will juice your laptop (and not just your phone, ereader, tablet, and random Nintendo Switch). That's the watt requirement of your laptop.
While many USB-C charged laptops might work with the batteries above, some are more power-hungry. To know the best battery for your laptop you'll need to know first how many watts it requires. A Macbook can get away with 40w, while a Macbook Pro would need 60w. You can learn the requirements of your particular laptop by checking the specifications for it online or in the manual. You can sometimes also check the watt requirement by looking at the current power supply used with your laptop.
After you've determined the watt requirement its time to select a battery. Naturally they rarely list their output in watts, but they do list them in volts and amps. Simply multiply the two and you have your number. So 12 volt/4 amp batteries like the two mentioned above put out 48w. If you're laptop needs more juice than this 50,000mAh Maxoak battery ($136) might be better. It's a 20V/3A battery, which means it can handle the 60 watt requirement of a power-hungry laptop.
---
Get connected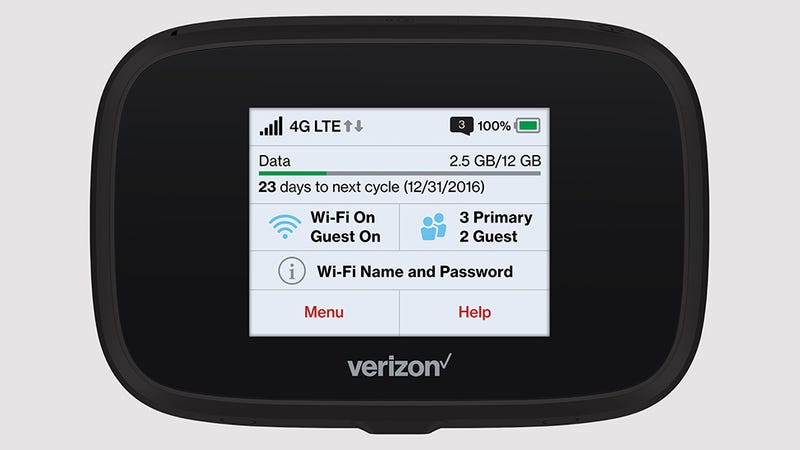 The first port of call for getting online on the go should be your smartphone—provided you've got a plan that allows tethering and that won't cost you an astronomical rate to get connected. Check your current plan for details. Public wi-fi in coffee shops and hotels is always an option too Albeit a rather unsafe one. 
However in terms of gear you can pack in a bag, look for a dedicated mobile hotspot device. These gadgets work just like tethered phones but because they're specifically built for the job, they should be more robust and easier to work with (and you save on your smartphone battery at the same time of course).
The ZTE Falcon Z-917 ($45), for example, works with T-Mobile networks (so you'll need a data plan for it) and can provide a mobile hotspot for up to 10 devices to connect to. The Jetpack MiFi 7730L from Verizon, meanwhile, supports 15 devices at once and can be yours for $49.99 with a two-year data plan. It'll even charge up your phone as well.
---
Data hoarding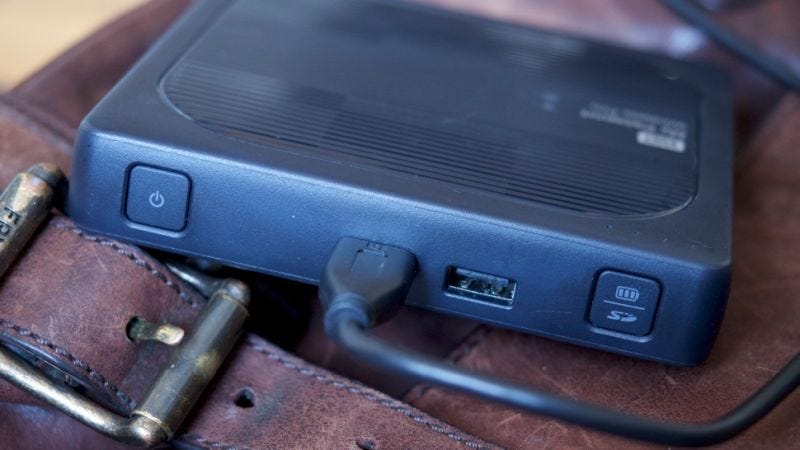 External hard drives aren't the essential purchases they used to be before we all started putting our stuff in the cloud, but they can come in handy for remote work for a number of reasons.
First and foremost it means you can take all the data from your home computer with you, if it's not already on your laptop. If you're struggling for a Wi-Fi connection on the road then it's much easier to plug in an external drive than try and load up Dropbox in a browser. On top of that you've got somewhere to back up any new files you create or photos you take while you're away from home base.
It's hard to go wrong with an external hard drive and there are plenty of models available from the reputable names in the business, but always buy more storage than you think you're going to need—it fills up fast. The WD My Passport SSD (from $99.99 for 256GB) will do the job and at ultra-fast SSD speeds too, while the Seagate Duet ($99.99 for 1TB) is a decent option for Amazon fans, as it automatically syncs with Amazon Drive.
---
Adapting power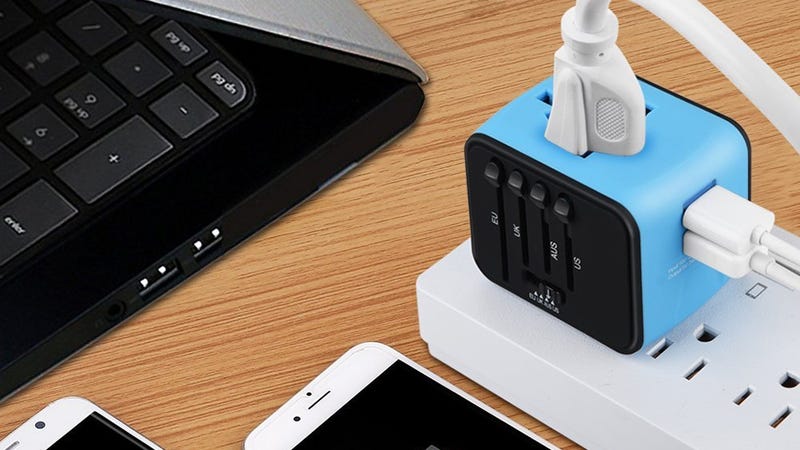 If you're really going to go all-in on the remote working lifestyle and start doing your job abroad, a whole new set of challenges present themselves—like how you're going to recharge your plethora of gadgets using a foreign connection.
While hotels will often have adaptors you can use, it often pays to bring your own with you, and you might even throw a small power strip into your bag too, if it'll fit—that means you can charge up several devices from one plug socket and adapter, as long as you're careful not to overload it (this shouldn't really be an issue with portable gadgets).
You've got a whole host of buying options here, so take your time in picking a solid and well-reviewed adapter or two. Some of the best adapters, like the Foval International Power Travel Adapter ($37.98) and the Iron-M Universal Travel Adapter ($16.58), will work with multiple types of sockets and offer USB ports as well as a mains connection.
---
Listen up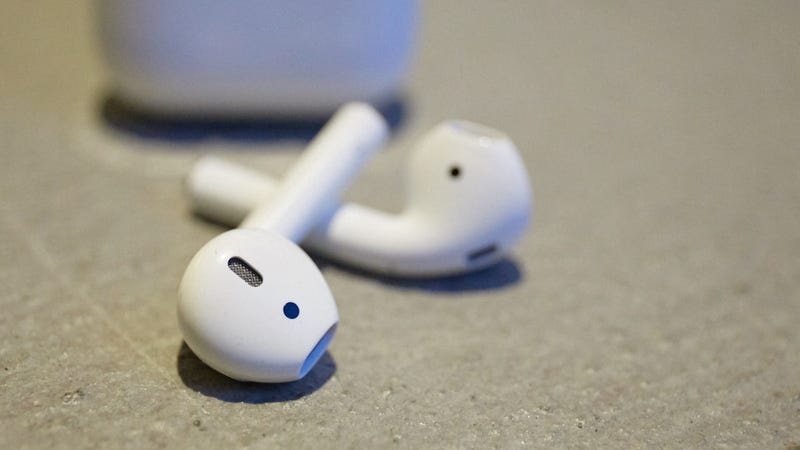 A good set of over-ear headphones or in-ear earbuds are a good bet for shutting out the clamor of the outside world and focusing on whatever it is you're trying to get done, whether you want to listen to your favorite tracks or put on some soothing background audio. Having your tunes pumping out in a library or coffee shop isn't really an option.
Get a pair with a built-in mic somewhere on the cans or the cable and you've got your remote video conferencing call needs covered as well—you can video chat with your boss or your clients without the rest of the world joining in. Unless you really want to go wireless or need the best audio fidelity, you really don't need to spend much at all.
But if you do want to spend money and go wireless than Apple's iconic AirPods ($159) come with an integrated microphone and can pair with Mac and Windows laptops as well as iPhones. At the other end of the size scale we've recently been impressed by the Sony WH-1000XM2 headphones ($348), though there's no integrated mic in this case.
from Lifehacker http://bit.ly/2F3NsRd
via IFTTT