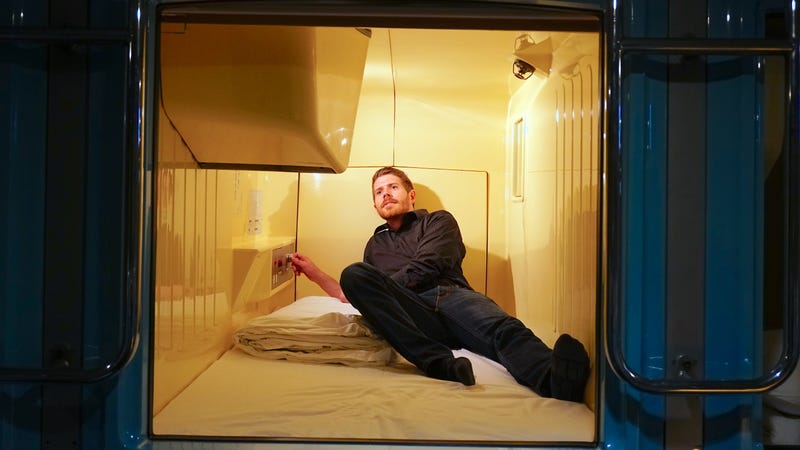 I keep telling people that traveling to Japan is way more affordable than they think, especially if you book the right accommodations. We're talking as little as $20 to $50 a night if you know where to look! These obviously aren't five-star resorts, but they're worth it for the money you'll save.
Capsule Hotels
Staying at a capsule hotel—pictured above—may have been one of the oddest travel experiences I've ever had, but not in a bad way. Yes, you're basically sleeping in an oversized coffin (this is not for the claustrophobic), and yes, the amount of privacy you get is roughly -100%, but it's a huge money saver. For about $20 to $40 a night (mine was $30), you get a bed in a capsule; a locker for your luggage; access to a bathhouse; access to a coin-op laundry room; and usually a common room with TV and food available for purchase.
These establishments are primarily intended for business folk who had too much to drink, but you'll be around plenty of tourists if you're in a popular area. My night involved too much whiskey in Golden Gai, late night KFC, then waking up in my capsule and forgetting where I was. There was a brief moment I thought I had awoken from cryo-sleep on a spaceship and that my entire life was just one long dream, but I'm sure that won't happen to you. If you're traveling solo, or with some adventurous buddies, it's totally worth it.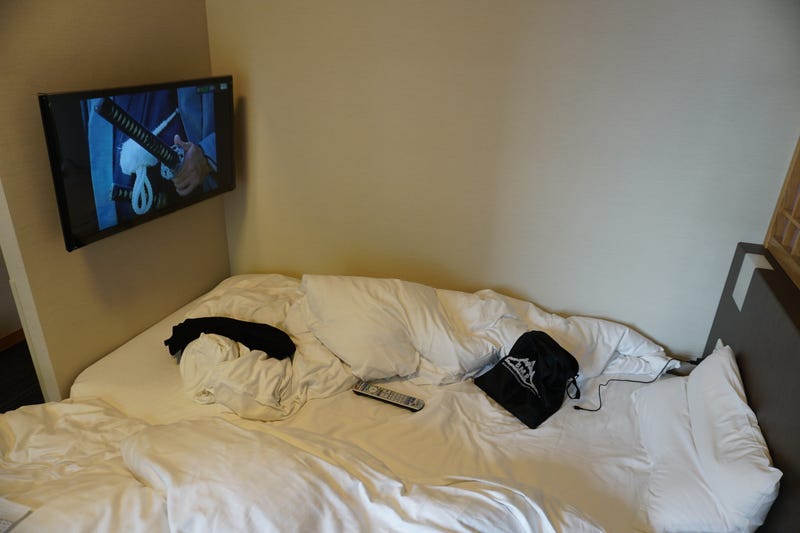 Internet or Manga Cafes
Internet or manga cafes, which are known as "manga kissaten," aren't actually hotels or necessarily intended for overnight accommodation, but that doesn't mean you can't use them for that. These places are filled with computers and comic books, but you can rent private rooms for long periods of time at a very low price. Manga kissaten cost about $15 for an eight-hour stay, and that includes unlimited access to comics, drinks, sometimes snacks, a community toilet, and a shower. You can grab a shower and catch some Zs in a comfy chair for the cost of a meal.
Some of these places even have beds, laundry stations, and offer extended stay options, where you pay a certain amount per week or month (usually averaging about $20 to $25 per day). Manga kissaten aren't ideal to stay in if you're in a group, or if you need certain amenities they don't offer, but they can save you in a pinch.
Business/Western Hotels
If you want the usual amenities you come to expect from a western hotel chain, Japan has plenty of options: APA, Dormy Inn, Flexstay, etc. These places will pop up in popular accommodation search engines, so start searching and try to find a good price. I usually stay at these places when I visit Japan because it's nice to have a private shower and toilet, and many of these places offer a great breakfast that can be included in the cost of your room.
The downside is that they can get expensive if you don't plan ahead (up to $200 a night), so book as early as you can. I recently stayed at the Hotel Gran Ms Kyoto for three nights at only $49 a night because I booked early and traveled during the off-season. If you can get a sweet deal on these types of hotels you might as well take advantage.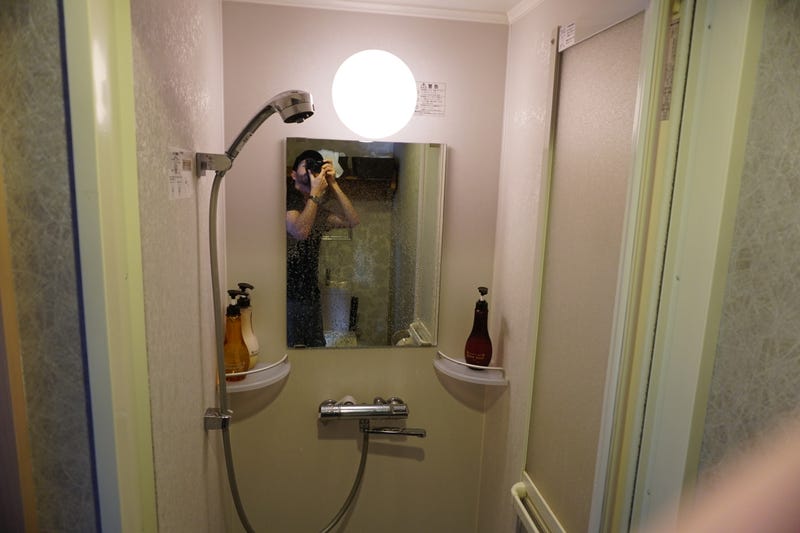 Economy Hotels
Economy hotels, or "kanshuku" (simple accommodations), are a step up from capsule hotels and kissaten, but don't have nearly as many amenities as business hotels. When you search for places with an accommodation search engine, these will probably be listed as "hostels," to which they're very similar save for one thing. The bathrooms, dining areas, and common areas are all shared, but you still get your own room outfitted with a futon or tatami mat. So, if you're down with the idea of hostels but want a bit more privacy, check out some kanshukus. They usually cost $20 to $60 per night.
Overnight Buses
Why not sleep and travel to your next destination at the same time? Overnight buses, or "yako bus," can cost anywhere from $30 to $120, depending on where you're going, and they can save you tons of time and money in the long run. These are the two major yako bus companies in Japan:
These won't be the most comfortable nights of your life, but it's a lot cheaper than a night in a hotel and a bullet train ticket.
---
A note on booking accommodations in Japan: You absolutely must book everything in advance. It is considered polite to book your accommodations at least 30 days before your stay. It's not impossible to find places to stay day-of (like capsules and kissaten), but it will be more difficult (especially on weekends), and some places may not even allow it out of principle. Also, make sure you have cash on hand when you go to check in. Many smaller establishments will only accept cash. Lastly, check-in and check-out times are ironclad. Don't expect any flexibility there.
from Lifehacker http://bit.ly/2p7I7m7
via IFTTT