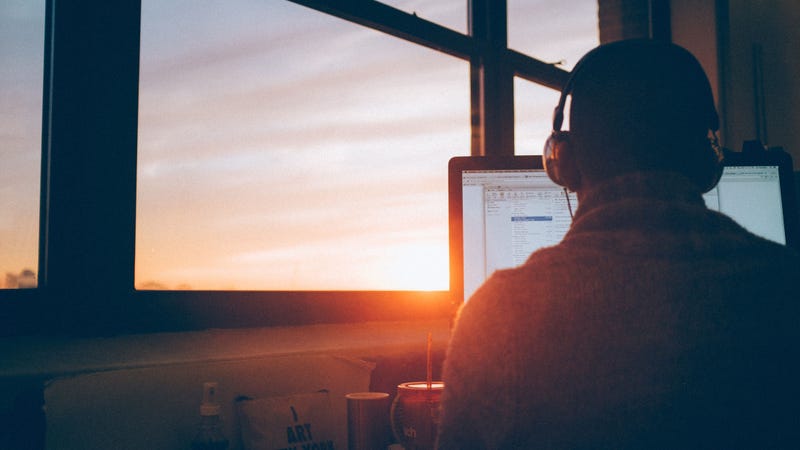 What would you try in your professional life if you weren't afraid of failing? Would you finally write that book of short stories? Strike out and open your own shop? Convince your manager you deserve to be in charge of a larger team?
For Eve Ewing, a teacher, artist and writer, the potential for failure is all part of the process. "Small failures and confusions, I think, are really generative," she says in an interview with The Creative Independent, in which she talks about letting your ideas guide you, compartmentalizing creative time, the temptation to do work you don't really want to do for a brand-name employer, and that when you have a bad day at work remember it could be worse—you could be packing meat. Her advice is aimed at creatives and writers (Ewing published Electric Arches, a hybrid of prose and poetry, last year), but most of it can apply to anyone who wants out of their work.
"There's something in our culture where people are focused on the accomplishment and not the actual art or the idea," she says, detailing how she she wanted to write something—specifically poems or essays, or the next Great American Novel—and beat herself up when she hadn't published something by the age of 17. She just didn't have an idea, and that made becoming the author she wanted to be, well, difficult. Then, when she had an idea for a poem that started turning into a short story, a form she doesn't consider her strength, she just along went with it.
This book that has been one of the easiest, most pleasurable, and one of the best things I've ever written. It's also been a fairly pleasurable experience that has just happened. All these times that I tried to write fiction and I totally bombed out. It reaffirmed for me that you can't really be obsessed with the form or the function; there has to be a concept beneath something. And when you have a concept, it just goes.

It was okay for me to say, 'I don't have a good idea for a fiction thing right now,' and I should have just said that and allowed myself, alleviated myself the suffering, the self-castigation. But I've been amazed, it's challenging my notions of myself and what I'm able to do.
She goes on to explain the benefits of trying things just outside our comfort zones, to build ourselves up with small successes on the path to a larger success, or honing a certain skill. To understand that we won't succeed at everything immediately, and that's ok, as long as we try to "be a little bit better the next day.For her, one of these activities was knitting, which may not seem like the most instructive example of overcoming failure, but taught her a lesson that applies in facets of life beyond crafting (emphasis added).
When you make a mistake [knitting] you have two choices. One is you can accept that the final product is gonna be flawed, and maybe no one will ever see it but you will always see there's a little hole right there. The other alternative is to start over. And either of those options is totally fine. I would knit and be like, oh I made a mistake three rows back and rip it out. And people watching me would be like, how can you?! They just saw me labor over building a garment loop by loop, which is a ridiculous enterprise, right? How can you undo it? And I'd always be like, well, I did it once and I'll do it again. And now I'll do it better.
What it comes down to is taking failure in stride, perhaps by trying more things you're uncomfortable with. You may fail more often, but you'll also succeed more often than you would by playing it safe.
Natural talent—I don't actually know how much I believe in such a thing. I do know that there are things that if I work hard at them, I will get better. 2018 is gonna be a year of writing a lot of different things that I've never done before. I'm writing a lot of things that I've never done.
Here's to 2018 being the year you focus on the idea, not the preferred outcome, and step outside your comfort zone.
Read the full interview here.
from Lifehacker http://bit.ly/2F0Idmi
via IFTTT