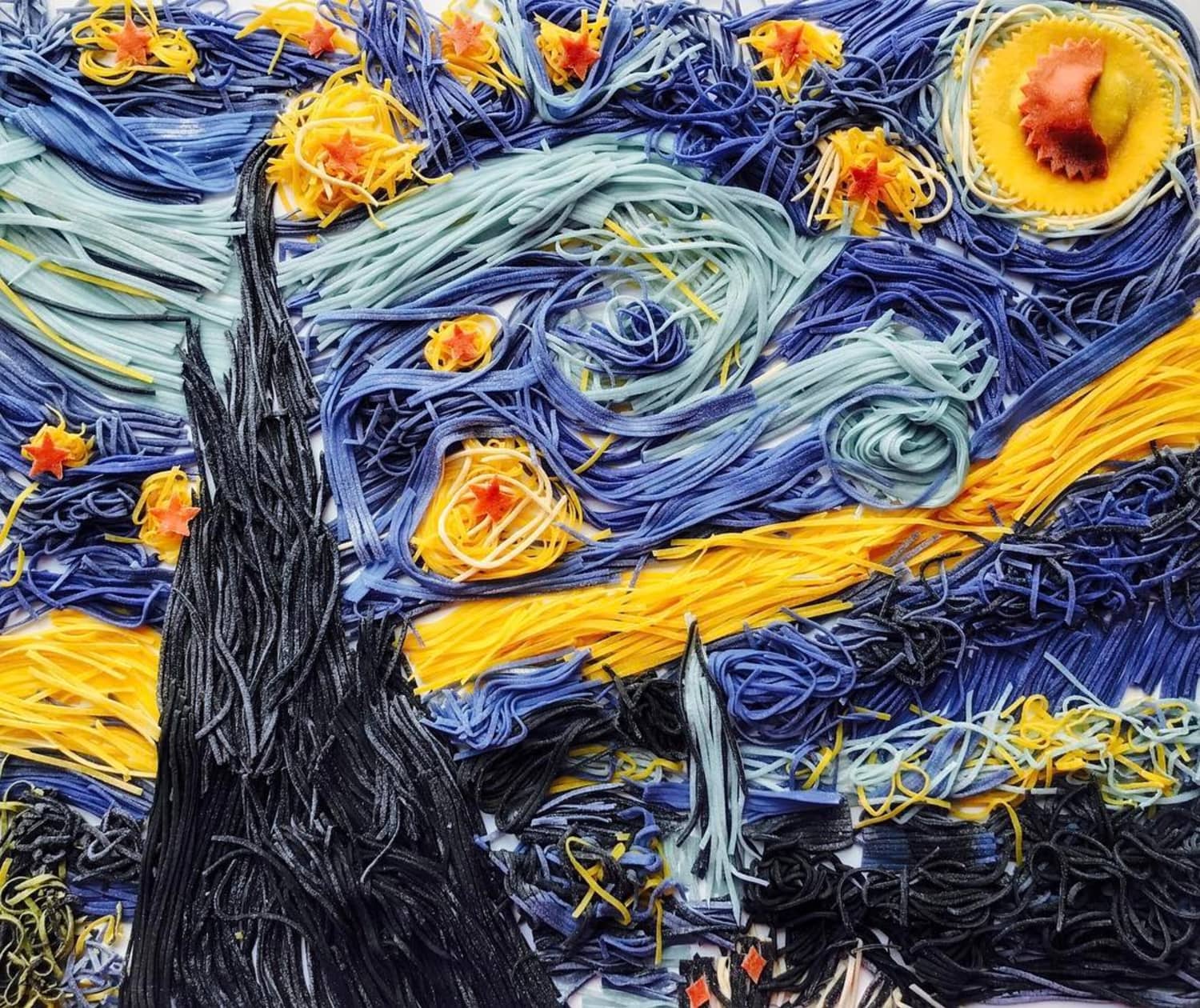 For many members of the carb-loving sector of society, pasta is its own work of art. From its texture and the way it seemingly beckons to you from a nearby plate (that of a stranger or your own) to the taste (obviously) and its appearance, specifically when it's plant-dyed pasta fashioned into famous paintings, well-known faces, whimsical figures and more. 
In the latest edition of Yes, This is Actually a Thing, allow us to present this fantastic food-themed art from Linda Miller Nicholson. The author of "Pasta, Pretty Please," and curator of the @saltyseattle Instagram account is known for creative carb-based works of art.
Earlier this year, she enthusiastically demonstrated how she makes her signature pasta handkerchiefs, a process that entails using various foods and spices to dye pasta a range of brilliant colors.
While creating these unique masterpieces, Nicholson has been known to "weep tears of joy." That said, we could hardly hold back tears of own when poring over her extensive pasta-themed portfolio. 
Here's a culinary nod to Banksy's Girl With Balloon, which famously self-destructed after fetching $1.4 million in a 2018 Sotheby's auction. Nicholson used activated charcoal, beets, eggs and flour to create her rendition.
Nicholson produced this pasta-inspired version of Edvard Munch's "The Scream" (1893) with the help of activated charcoal, beets, eggs, flour, harissa, pea flowers and turmeric combined with plenty of time, zen and joy.
It'd be extremely difficult to take a bite out of this incredible pasta version of Vincent Van Gogh's "Starry Night." Nicholson crafted this edible piece out of "naturally-colored noodles of various shapes and sizes."
Johannes Vermeer's 1865 classic has some serious competition in Nicholson's 21st century "Girl with a Noodle Earring."
Nicholson also finds inspiration in various other places, including fashion, TV and pop culture.
We've certainly sampled weirder foods than this Stranger Things-themed lasagna that serves 11(!). Made with beets, paprika, eggs, flour and activated charcoal.
We independently select these products—if you buy from one of our links, we may earn a commission.
from Apartment Therapy http://bit.ly/2YBSDB5
via IFTTT